The Cottage
Here are answers to some frequently asked question on use of the cottage.
How much is the cottage in use? The cottage is used primarily for radio contesting. The owners generally keep it for their own use for the three major international contests: ARRL DX CW and SSB, WPX CW and SSB, and CQWW CW and SSB. Many other contest have been run from the cottage, including FOC Marathon, ARRL RTTY Roundup, WPX RTTY, IARU, and ARRL 10 and 160. In addition the cottage is occasionally used in non-contest weeks (it's a great location for casual DX operations).
What's the place like? The cottage is fairly basic but quite comfortable. It has a kitchen, combined dining room and living room, two bedrooms, one bath and a radio room. It's fully air-conditioned, and is a strictly non-smoking environment. One typically Aruban (non)feature of the house is a lack of water heater. So it's OK to take a shower, but you won't get to luxuriate in a super-hot, steamy one. Check out the pictures below (click on any picture to enlarge).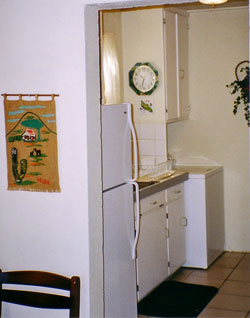 Kitchen, with refrigerator, propane stove/oven, microwave, coffeemaker, washing machine (dryer is outside -- a clothes line)
Is it available for rent? The cottage is sometimes available for rent. Generally we rent only to hams who have used the place before and are personally known to us. John is in charge of rentals. We will rent to no more than two couples, due to limited accommodations. Note that the premises are strictly non-smoking.
What's included in a rental? Use of the cottage, use of radio equipment on site (though not the amps without special arrangement). All utilities (power, phone, high speed internet, including a wireless router) are included. We used to have a car, but it was old and slowly dying, so it has been sold. There are numerous car rental locations on the island, including all major companies at the airport.
Is it near the beaches? Well, we're not on the water, but Aruba is a small island, so the beaches are very accessible. We're about four miles south of the airport near the center of the island. It's less than a mile to some small beaches at Savaneta as the crow flies, and a rather short drive to beaches at the south end of the island (including the famous "Baby Beach") for snorkeling, and to the major hotel beaches north of Oranjestad. All beaches on Aruba are open to the public, by the way, including those maintained by the hotels. The water is warm and clean and great for swimming or water sports.